Titia Chang Testimonial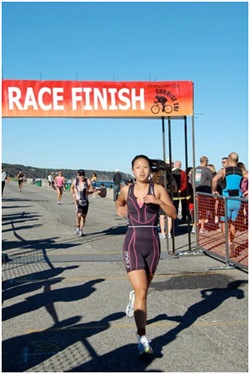 I tore my ACL while snowboarding in Lake Tahoe in February of 2011. It was my first West Coast trip and I got too "jump happy". It was the last run at Northstar and my second time doing that jump. I thought I had it figured out but as I landed, I heard a "pop" sound from my knee and I was wiped out. There wasn't a lot of pain but something was definitely wrong when I couldn't stand up.Luckily, I had an orthopedic surgeon friend riding with me that day. He was almost 100% sure that I had a torn ACL. That same night, he helped me look through my insurance to find the best doctor for this surgery. We both knew that I was too active to take this lightly. At the time, I was signed up for the 2011 Florida Half Ironman and trying to qualify for the 2012 NYC Marathon. I was very scared that my active lifestyle was ruined.
When my friend saw Dr. Cadet's name on the insurance list, he recommended Dr. Cadet without hesitation. I was able to see the good doctor two weeks after I returned to New York. Almost immediately, Dr. Cadet scheduled me for an MRI in the same building as his office and it was determined on the spot that I have a completely severed ACL and that I would need surgery. He took into consideration my lifestyle and what I want to achieve through surgery. He was very thorough with explaining to me all the different procedures and we chose the best one for me together. About three weeks after, I had my scheduled surgery and the process was seamless. I was in and out of the hospital within hours. The days after surgery included two sessions of physical therapy and some visits to Dr. Cadet for follow ups.
I was back on my feet and started my first running race three months after surgery. Dr. Cadet understood my urgent need to get back to my regular activities. He was very careful to advise me on how to exercise and the best way to get my life back to normal.Currently, I am fully recovered and just completely the 2012 NYC marathon (although it was canceled, I still ran the distance to complete what I started) and am currently training for the 2013 Florida Ironman. My advice to patients is to make sure the doctor is aware of your lifestyle and explains all surgical options. I have spoken to many friends after my surgery that went through the same surgery but did not pick the same procedure, which caused them to either alter their life style or need additional surgery.
Bilateral torn bicep repair 2x Left torn pectoralis muscle repair,- having surgery done by Dr. Cadet…PRICELESS!
Thank you for giving me the opportunity to compete at a high level again.
– Steve L
Extremely knowledgeable surgeon
My 17year old son had knee surgery a couple of years ago and we are very pleased with the outcome. He is very precise, he knew exactly what the problem was. My son didn't have to say much. He makes you feel very comfortable and at ease with his soft spoken words. My son now injured his groin and he only wants to see him again. He is an expertise in his field. We will be seeing him soon.
Outstanding Doctor
I cannot begin to speak in the highest regard about Dr. Cadet's excellent skills; both as a caring doctor and as a top surgeon. His knowledge is superior to those in his field. Additionally, Dr. Cadet takes the time to truly understand the patients' needs and concerns. I felt like my questions about my medical condition which required surgery were welcomed. My recovery time Post Op has been remarkable. I would recommend Dr. Edwin Cadet to everyone!!