Edwin R. Cadet, MD of Raleigh Orthopaedic Clinic recently had an article accepted for publication in the Journal of American Academy of Orthopaedic Surgery (JAAOS). The article entitled "Proximal Humerus and Humeral Shaft Nonunions" is published in the September 2013 issue of the JAAOS.
Click here to know more.
---
Special Offer: Recognition Plaque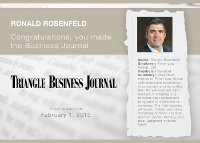 Purchase a plaque to commemorate this accomplishment for only $65.

You will receive a personalized proof for your approval with your information and image.
Click here to know more.