Shoulder & Sports Medicine Orthopaedic Surgeon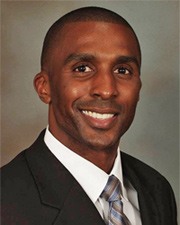 Edwin R. Cadet, M.D., a fellowship-trained, board-certified orthopaedic surgeon specializing in Shoulder and Sports Medicine joins Raleigh Orthopaedic Clinic from New York City. He served as an Assistant Professor of Clinical Orthopaedic Surgery at Columbia University College of Physicians and Surgeons and an Assistant Attending Orthopaedic Surgeon at New York-Presbyterian/Columbia University Medical Center. While at Columbia, Dr. Cadet was an attending surgeon on the prestigious and world re-known Shoulder Service, whom many around the world consider the "birthplace of modern shoulder surgery". While on the Shoulder, Elbow and Sports Medicine Service at Columbia University, Dr. Cadet also served as the Director of Hip Arthroscopy, was head team physician for the seventeen varsity team sports at the City College of New York, and two regional high schools, and was an integral part of training medical students, orthopaedic residents and fellows. For his high level of care that he provides to his patients, Dr. Cadet will be recognized by the New York Times Magazine as one of its Super Doctors® 2013 New York Rising.
Dr. Cadet completed his orthopaedic surgery residency training at The New York Orthopaedic Hospital at Columbia Presbyterian Medical Center. He served as one of the administrative chief residents in 2008 and received the Alexander Garcia Senior Resident Award for Excellence in Orthopaedic Surgery, citing the member of the senior resident staff who best exemplifies those qualities of academic excellence, clinical proficiency and capacity for leadership .In 2009, Dr. Cadet completed a fellowship in Shoulder and Sports Medicine at the Hospital for Special Surgery, which U.S. News and Reports frequently ranks as the #1 Orthopaedic Hospital in the country. During his fellowship, Dr. Cadet spent dedicated time learning hip arthroscopy under the direction of Dr. Bryan Kelly, a world expert in this field. In addition, Dr. Cadet assisted with the medical care for NCAA Division I collegiate and professional teams during his fellowship, including the Red Storm of St. John's University and the New York Knicks.
Dr. Cadet specializes in arthroscopic and open techniques to address disorders affecting the shoulder, knee, hip and elbow. He has a special interest towards the care of athletes as he himself was a NCAA Division I track and field athlete while attending Brown University. Dr. Cadet cares for athletes of all ages, beginning during adolescence through adulthood and at all levels of participation, from the weekend warrior to the high school, collegiate and professional athlete. His particular clinical interests include rotator cuff and labral tears, shoulder instability (e.g. shoulder dislocations), shoulder trauma, elbow injuries (medial collateral ligament injuries or "Tommy John" surgery), shoulder osteoarthritis (shoulder replacement), knee ligament injuries (e.g., anterior cruciate ligament (ACL)), athletic hip disorders (e.g., hip arthroscopy for management of labral tears and femoroacetabular impingement), and cartilage disorders.
Dr. Cadet continues to remain quite active in research activities. His research interests include factors important to rotator cuff healing, knee ligament injuries, and hip disorders (e.g. femoroacetabular impingement). Dr. Cadet has spoken nationally and internationally on a wide spectrum of shoulder, knee and hip topics and continues to be invited to share his expertise to other surgeons and/or surgeons-in training. He is a reviewer for the Journal of Shoulder and Elbow Surgery. He has co-edited a book on shoulder and elbow trauma and has authored several publications in many of the leading journals in orthopaedic surgery, including the Journal of Bone and Joint Surgery, The Journal of the American Academy of Orthopaedic Surgeons, The American Journal of Sports Medicine, Arthroscopy and the Journal of Orthopaedic Research. He has also presented his research at regional and national meetings. He was selected as a member of the prestigious American Shoulder and Elbow Surgeons Society this past fall. He also is an active member in many professional societies, including the American Orthopaedic Society for Sports Medicine (AOSSM), the American Academy of Orthopaedic Surgeons (AAOS), and the Arthroscopy Association of North America (AANA).
On a personal note, Dr. Cadet was raised on Long Island. He attended high school at Saint Anthony's High School in South Huntington, NY where he played football and ran track and field. He attended Brown University for both his undergraduate and medical school studies. He was a NCAA Division I collegiate track and field athlete, specializing in the 400M hurdles while at Brown University. He is absolutely dedicated in providing the highest level of compassionate and outstanding care to his patients.
Education
September 1990- June 1994


Regents Diploma with Honors
Saint Anthony's High School
South Huntington, NY

September 1994- May 1998


Bachelor of Science with Honors, Biology
Brown University
Providence, RI

September 1998- May 2003


Warren Alpert School of Medicine, Brown University
Providence, Rhode Island

June 2000- June 2001


Visiting Researcher
National Institutes of Health
Recipient, Howard Hughes Medical Institute Research Scholar Fellowship
Bethesda, MD
Training
Internship
June 2003- June 2004


General Surgery
Columbia Presbyterian Medical Center
New York, NY
Residency
June 2004-June 2007


Resident, Orthopaedic Surgery
New York Orthopaedic Hospital
Columbia Presbyterian Medical Center
New York, NY

July 2007-June 2008


Administrative Chief Resident, Orthopaedic Surgery
New York Orthopaedic Hospital
Columbia Presbyterian Medical Center
New York, NY
Fellowship
August 2008- July 2009


Shoulder and Sports Medicine Fellowship
Hospital for Special Surgery
New York, NY
Board Certification
July 2011


Board Certified, American Board of Orthopaedic Surgery

July 2008


Passed Step I Exam of American Board of Orthopaedic Surgery Boards
Summer 2011
Step II Eligibility
Professional Affiliations
American Academy of Orthopaedic Surgeons (AAOS)
American Orthopaedic Society for Sports Medicine (AOSSM)
Arthroscopy Association of North America (AANA)
American Shoulder and Elbow Surgeons (ASES)
Publication